In our boxes of pears or bags of hazelnuts you will find not only our best fruits but all the love that we have put to cultivate them, the patience we have dedicated to collecting them one by one, the effort we made in front of mornings that started very early.
If you ask dad Franco or mom Liliana how this adventure started, they'll tell you it was a big bet that started like this.
Our story
In 1990 father Franco worked in the factory and in his spare time he helped grandfather Armando in the hazelnut groves. By chance, one day, he read an article in a magazine that talked about a new fruit grown in France and in the province of Cuneo. Intrigued, he contacted the owner of the company who cultivated it and it was there that he tasted the Nashi Pear for the first time. Unable to hold back the wonder, that year, in autumn, he planted the first orchard . The beginning was tiring, like all respectable beginnings. They did not have the machinery for which the harvest took place with a simple ladder : dad, just like an expert acrobat-juggler, from the top step collected the fruits and passed them to the mother who placed them in the boxes. Thinking about it now, we all smile, still a little incredulous, but yes, that's how it started, one step at a time.
The passion for the cultivation of hazelnuts instead we inherited from grandfather Francesco. When we were children, at the end of the summer we helped him pick hazelnuts near his home: then on Sunday, after making bread in a wood oven, we used to toast them to make them tasty and crunchy.
They were moments of pure joy, of that happiness that only simple things and grandparents can provide . We ate them together, between the intoxicating scent of hazelnuts and slow chatter. Every time we toast the hazelnuts, our minds go back there, around the table on those Sunday afternoons.
A fruit farm but above all a family
We are a fruit company but first of all a family. Each of us with its particularities brings value and beauty to the work of others.
Papa Franco is the head of the family, the boss of the company, a practical person, tireless, with innovation in his hands.
Mamma Liliana is a determined, reassuring woman who never gives up: she is the engine of the family, the one who always pushes everyone to see the positive side of everything. Then there are the three of us children: Michela , shy, courageous and always organized, Valentina , curious, exuberant and practical, Marco , gruff from the heart kind. From the height of his 89 years, then there is grandfather Armando who still offers excellent advice.
Here, look, this is us.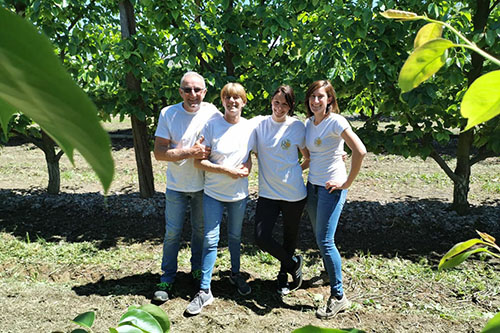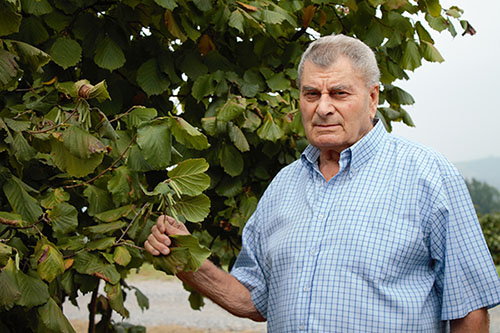 Our philosophy
Our greatest strength is knowing that together we can overcome everything . This is why we are able to endure work in the cold in winter or in the scorching heat in summer, to face bad years, not to break down, never even in the face of a frost or drought.
In every action it is the force of nature that inspires us . Even when it is more difficult, more tiring, more incomprehensible, we know that there will always be one season after another, that plants will sprout again, that the earth will continue to welcome.
Nature teaches us never to give up, it shows us that there is always a new opportunity, that if the flowers and fruits can be reborn after winter we can too.
For this reason we have chosen to cultivate with the "integrated pest management" method and minimize the environmental impact.
Tiziano Terzani used to say "Live a life you can recognize yourself in!". We started it 30 years ago and have never stopped.
We are here for you
Who are you? You are the person we all think about every day here. Liliana thinks of you when she selects the best nashi pears, Franco thinks of you when you meet him at the fair with a big sincere smile, Michela thinks of you when she answers order emails, Valentina thinks of you when she prepares for the hazelnut harvest and Marco also thinks of you when he works on his tractor.
You are the customer who writes to tell us that the cake he made with our Nashi Pears disappeared in a few hours, you are the friend who calls us to find out if the storm has caused us damage to the crops. You are a customer and a friend.
What can we do for you?
You can order on the website and we will ship the products to your home. Discover hazelnuts or Nashi pears
You can organize a trip on Sunday and come and buy directly from the farm.
You can find us in some shops. Contact us to find out if there is one near you.